BYU and Utah Come Together to Kick Off the Deseret First Duel Rivalry Season for Charity!
On July 16th at Soldier Hollow Golf Course, Deseret First Credit Union hosted the annual Deseret First Duel Rivalry Cup golf tournament to raise funds for the Deseret First Charitable Foundation which helps LDS missionaries who need some assistance purchasing clothing, shoes, and luggage.
"The Deseret First Duel Rivalry Cup is an amazing tournament that kicks off the new rivalry season between the universities," said Deseret First Charitable Foundation President, Trena Anderson. "We enjoy the opportunity to spend time with so many supportive athletic staff, athletes, sponsors, and fans."
Individuals from rivalry schools were grouped together in foursomes to enjoy a friendly round of golf in the spirit of collaboration for charity. We also held a raffle with donated prizes from many sponsors and businesses in the community. All the proceeds from the tournament and raffle were donated to the Deseret First Charitable Foundation so they could help LDS Missionaries throughout the year!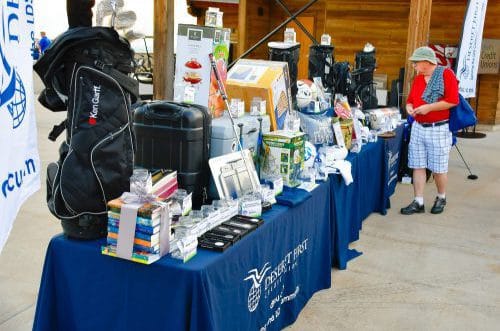 In attendance from Utah were: Athletic Director Mark Harlan, Coach Sharrieff Shah, Coach Guy Holiday, Coach Morgan Scalley, Coach Freddie Whittingham, and Josh Grant.
In attendance from BYU were: Athletic Director Tom Holmoe, Coach Fesi Sitake, Coach Ilaisa Tuiaki, Chad Lewis, Robbie Bosco, and Brian Santiago.
BYU Associate Athletic Director Chad Lewis commented, "I loved being there. I also think it is so valuable for our two schools to have an opportunity to build friendship. You guys have created something very special."
The tournament marked the beginning of the 12th Deseret First Duel Rivalry season sponsored by Deseret First Credit Union. The Duel Rivalry highlights competition between the Cougars and the Utes in twelve sports, awarding winning teams with athletic scholarship funds.
The college sports rivalry between BYU and Utah is one of the oldest and strongest in the country. The score for overall Duel Rivalry wins in its 11 years is Utah 6-5 BYU. Will BYU bring it back to a tie this season? Find out by following the Deseret First Duel Rivalry online and on the Duel's Facebook.