First Choice
---
Checking Accounts that fit you
Choose Your Own
Finances might not be an adventure, but each of our options has a good ending. With Deseret First, you can choose the checking account that fits your lifestyle. We offer multiple options with an array of perks — check out the comparison chart for an overview!
free checking (no annual or maintenance fees)
both debit & credit card options
federally insured by the NCUA up to $250,000
nationwide access to the CO-OP Shared Branch℠ and ATM network
Want to figure out which account would benefit you the most? Use our First Choice calculator to get a true comparison.
Kick-start Your Benefits
Checking Options Comparison

| | Cash Back | Interest | Platinum Rewards | Platinum |
| --- | --- | --- | --- | --- |
| Individual Benefit | 10¢ / transaction over $5, up to 40 transactions | ATM refunds, up to $25 / month | 1 reward point every $1 spent | Higher APY on account balance |
| Interest Earned | 0.00% APY** | 1.00% APY** | 1.00% APY** | 2.00% APY** |
| Free Account | | | | |
| Debit Card | | | | |
| Credit Card* | | | | |
| Online Bill Pay | | | | |
| No Min. Balance | | | | |
| Fraud Protection | | | | |
| ID Theft Protection | | | | |
*On Approved Credit. **Rates quoted as Annual Percentage Yield. The APY applies to balances beginning at $.01. Fees could reduce earnings. See account requirements for details on how to achieve the individual benefit for each account.Additional products and rates are listed here.
Maximize Your Benefits
---
Find which account fits you and your spending style
Make the most of your money by selecting the right checking account option for you! Don't know which option is best? No worries, we've got you covered. Input your information into the calculator then check the results to find what is best for you!
---
This calculator is an estimate only. Rates, account balances, and transactions will affect actual results. Points earned with the Platinum Rewards card may be redeemed for cash back or other cash equivalent items of value. Credit cards available on approved credit.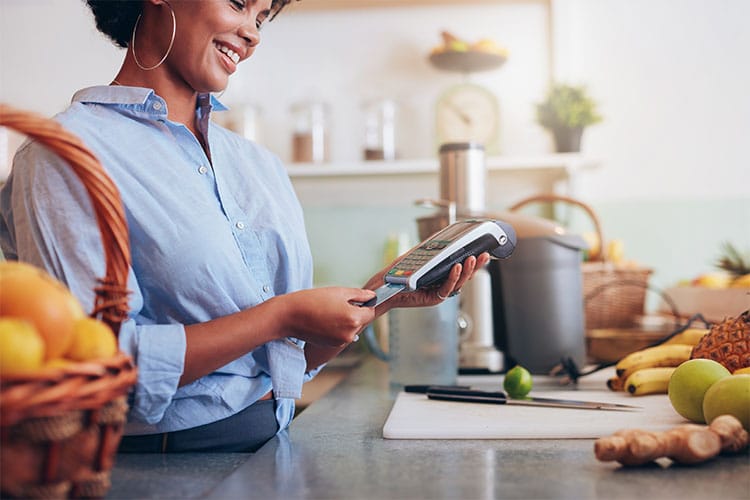 You'll need:
a Membership Savings Account
1 or more payroll/retirement direct deposit transactions per month
a valid email address
eStatement enrollment
10 or more debit/credit card purchases posted & cleared per month
To qualify for identity theft protection, a credit card must have been used in the last 90 days. In order to qualify for rewards on a First Choice Checking Account, all requirements, including required transactions, must be completed and posted to the account within the monthly qualification cycle dates. The monthly qualification cycle dates are as follows and are subject to change without notice.
Apply online today! For questions or to apply directly with a representative, call 801-456-7000 or 800-326-3328. Available weekdays: 8am–7pm, Sat: 9am–2pm. Additionally, you may visit any Deseret First Branch.
Monthly Qualification Cycles

| Month | Begin Date | End Date |
| --- | --- | --- |
| January | 01/01/19 | 01/31/19 |
| February | 02/01/19 | 02/28/19 |
| March | 03/01/19 | 03/30/19 |
| April | 03/31/19 | 04/30/19 |
| May | 05/01/19 | 05/31/19 |
| June | 06/01/19 | 06/29/19 |
| July | 06/30/19 | 07/31/19 |
| August | 08/01/19 | 08/31/19 |
| September | 09/01/19 | 09/30/19 |
| October | 10/01/19 | 10/31/19 |
| November | 11/01/19 | 11/30/19 |
| December | 12/01/19 | 12/31/19 |