You've got questions
---
We've got answers
Frequently Asked Questions
---
Below you'll find a list of some general questions. If you're experiencing problems with online banking or our apps, first check here for solutions. Still not finding the answers you need? Call us at 801-456-7000 or stop by a branch location.
ABA Routing Number: #324078909
The routing or ABA number is used for many purposes, including wire transfers, checks, direct deposits, bill pay, etc. Below you will find some important information you might also need when you're asked for Deseret First's routing number.
Institution Name: Deseret First Credit Union
Institution Address: P.O. Box 45046 Salt Lake City, UT 84145
Direct Deposit Form: Click here to download the PDF
Your Account Number: Can be found on your checks, under account names in online banking, or by visiting or calling a branch. See below to find where your number is located on a check.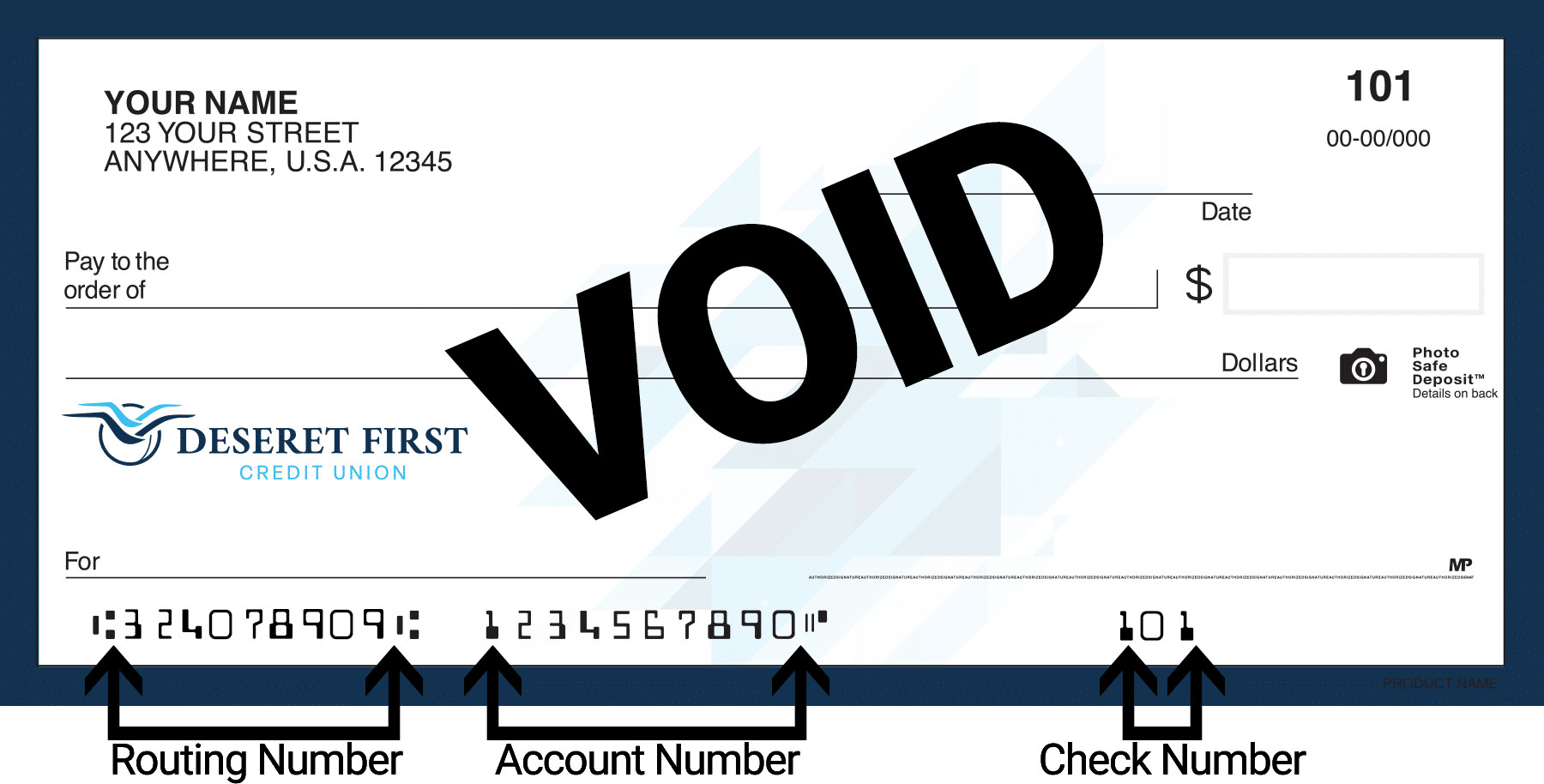 Special benefits are available for employer group members.
We offer a package of special rates, rewards, and discounts. These benefits are exclusively offered to these employees only. See here for a full list of eligible companies.
Benefits include:
*We add the $100 within thirty (30) days of opening an account and after your first direct deposit. The $100 bonus is treated as interest income for tax reporting purposes. Valid only for new First Choice Checking accounts. Limit one $100 bonus per member.
**DFCU credit cards range from 8.9–18.00% APR. This rate is dependent on factors such as your credit worthiness and the type of card you choose. Our credit cards have a 1% foreign transaction fee on purchases and a 1.5% cash advance fee.
You'll want to check out our locations page.
There you'll be able to search for one of our 12 DFCU branches, hundreds of shared branches, or thousands of ATM locations.
Our branches and contact center will be closed on:
New Year's Day: Monday, January 2, 2023
Martin Luther King Jr. Day: Monday, January 16, 2023
Presidents Day: Monday, February 22, 2023
Memorial Day: Monday, May 29, 2023
Juneteenth: Monday, June 19, 2023
Independence Day: Tuesday, July 4, 2023
Labor Day: Monday, September 4, 2023
Columbus Day: Monday, October 9, 2023
Veterans' Day: Saturday, November 11, 2021
Thanksgiving Day: Thursday, November 23, 2023
Christmas Day: Monday, December 25, 2021
We partner with CO-OP Financial Services to ensure complete accessibility for our members.
As a DFCU member, you get access to 5,600 credit union branches across the United States. Each branch can conduct basic transactions for members of other participating credit unions, which puts you in the 2nd largest financial network in the country!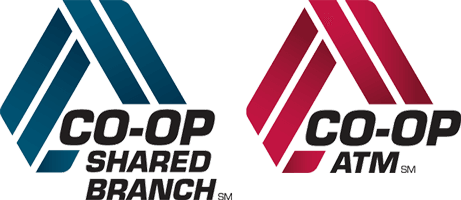 So anywhere you see these CO-OP logos, you'll know you can use that branch or ATM surcharge free. Not to mention that includes nearly 30,000 ATMs nationwide! For more information about the CO-OP network, visit their website.
You'll need to go to a branch.
Any of our branch locations can help you reset your debit card's PIN. Use our map to help you find a nearby location. Additionally, if you've forgotten your PIN, we can send the current number to you through the mail.
When you get to the automated menu, select the number that leads you to talk to a card specialist and we will send you a new/replacement card within 5-7 business days free of charge. If you need a card quicker, stop by a branch! They can instantly issue a replacement for you.
If for some reason, you're unable to call us, you can also use the CardHub app. With this mobile app, available on both Apple and Android, you can turn individual cards off and on as needed.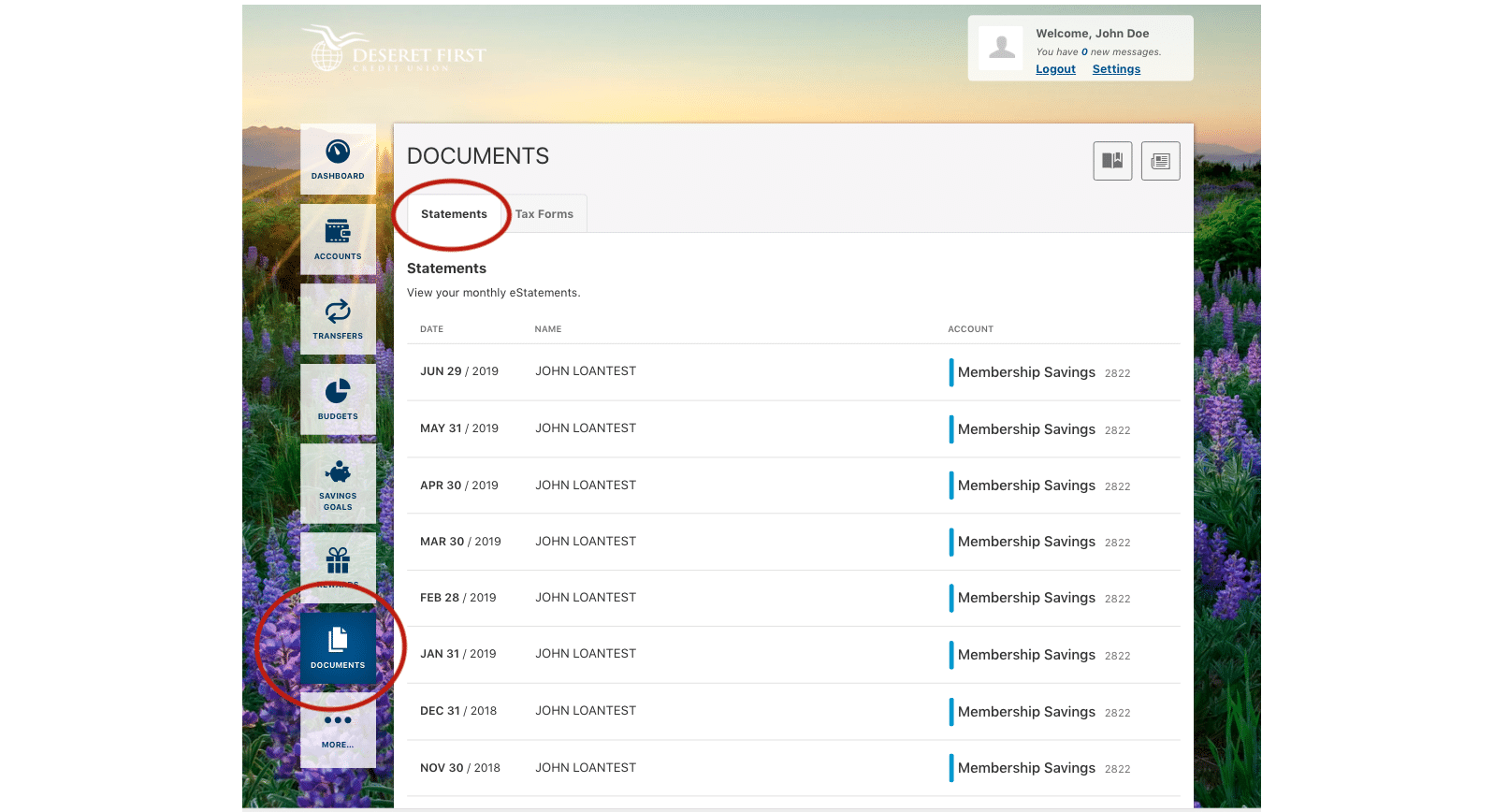 To view your statements, log into online banking, then select the Documents widget. You'll then see all your statements for savings, checking, and credit card accounts. You can click each statement to view more details and print them from your home computer.
You can find all our current interest rates listed here.
Please keep in mind, the rates listed are our best available rates. All rates are dependent on credit worthiness. Your rate offered could be different.
Yes! Simply complete our online loan application.
Not only can you apply online, but you can digitally sign for your loan as well. We strive to make the lending process quick and easy! Likewise, we offer both consumer loans and mortgages. You can complete each option 100% online (except for reverse mortgages).
Soon you'll be on your way to a different kind of banking! You can get approved and sign for your account with an e-signature entirely over our secure network.
We offer an exciting credit card rewards system!
These are points given for making purchases with our reward credit cards. You earn 1 point for every dollar spent! Get more details about the program by visiting our Visa Platinum Rewards Card page.
You can choose rewards from a variety of categories, including cash back!
Login to online banking and click on the rewards widget where you can view and redeem your points straight from the mobile app or online banking. If you have the points you need, select the reward you want, add it to your cart, and check out! Additionally, you can call the redemption center toll-free at 888-204-4482.
Sending a wire transfer? Here's how.
Visit a branch or give us a call at 801-456-7000 or 800-326-3328.
You will need the following information to send the transfer.
Their Financial Institution Information: Institution Name, Address, and Routing Number
Their Personal Information: Name, Address, and Account Number
Are you receiving a wire transfer? Here's the information you need to give the person sending the wire.
Domestic (Within the United States)
Beneficiary Financial Institution: Deseret First Credit Union
Address: 3999 W. Parkway Blvd. West Valley City, Ut 84120
Routing Number: 324078909
Beneficiary: Your Name
Account: The Account Number you want the funds in
International
Beneficiary Financial Institution: Zions Bank
Address: One South Main Street Salt Lake City, UT 84133
Swift Code: ZFNB US55
Beneficiary: Deseret First Credit Union
Address: 3999 W. Parkway Blvd. West Valley City, Ut 84120
DFCU's Account at Zions: 324078909
For Further Credit To*
Member Name
Member Address
Member Account
*Include as part of notes in Originator to Beneficiary Information
What Amount will be charged for wiring money?
Incoming Domestic: $10
Outgoing Domestic: $20
Incoming for Mortgage Payoff: $20
Incoming Foreign: $20
Outgoing Foreign: $40

See our Fee Schedule if you want more information
Here's a breakdown of tax forms that we send:
Tax Forms and Dates

| Form | Title | Report Limits | Date to Be Mailed |
| --- | --- | --- | --- |
| 1098 | Mortgage Interest | $600 or more | January 31st |
| 1099-INT | Interest Income | $10 or more | January 31st |
| 1099-R | IRA Distributions | All amount | January 31st |
| 5498 | IRA Contributions and information | All amounts | May 31st |
Information can also be found within Online Banking under the Documents widget where there is a tab for Tax Forms.
The credit union's Utah State ID number is 11767687005WTH.
The WTH at the end is required. Some tax software programs (i.e. Turbo Tax) require you to input the credit union's state ID number. But typically you won't need it unless you have state withholdings from your interest earned.
You can also try searching for what you need: