VISA Credit Cards
---
Visa credit cards with benefits
Choose a DFCU Credit Card to Fit Your Needs!
---
Deseret First Credit Union offers 3 different Visa Credit Cards to make sure you get the benefits that fit your needs. Whether you want daily cashback on your purchases from DFCU's Visa Signature Card, or hundreds of different reward point options from DFCU's Platinum Rewards Card, or maybe you're looking to pay off debt with an exceptionally low rate from DFCU's Platinum Card, we have a card with your name on it!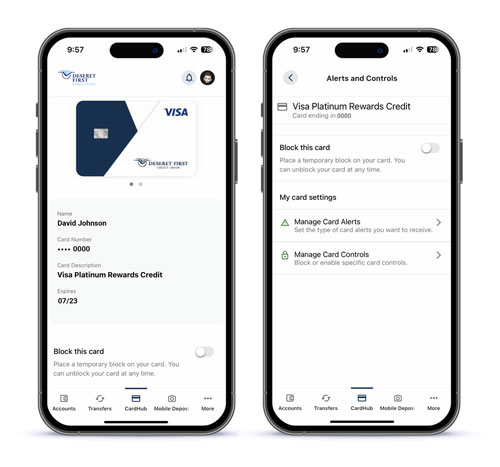 All 3 DFCU Visa Credit Cards come with:
A contactless card that can be instantly issued at any branch location
Mobile Wallet ready (Apple Pay, Google Pay, Samsung Pay)
24-hour live agent card support
CardHub – Real-time control of your card and notifications of when, where, and how your card was used
Visa's Zero Liability policy that protects against fraudulent charges
NXG Identity Theft Restoration
Much more!
Apply Now to Get Your Card
To report a lost or stolen card, please call 800-326-3328 anytime of day 7 days a week.
Treat yourself
any way you like it!
Receive bounteous bonuses today. Whether that means cash, a new TV, or a family getaway is up to you.
Apply for a card